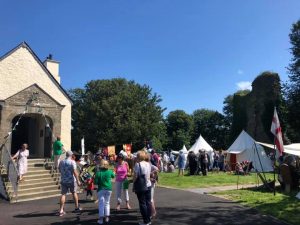 The Guildhall at Llantrisant may be an historic building set in the grounds of a ruined Norman castle, but it's also a flexible space that can accommodate a wide range of activities and events.
Whether it's a summer fete or an open-air concert, the Guildhall offers an ideal venue at the summit of a hilltop town that boasts panoramic views.
Our dedicated events team have a proven track record of organising small and large activities in the Guildhall and on the Castle Green. These range from the annual Big Picnic, which includes live entertainment and plenty of arts and crafts stalls. We also run a number of very popular guided history walks and ghost walks after dark, which will send a chill down your spine! These can either be public events or arranged especially for you and your group.
The annual Christmas Fayre on the Castle Green is filled with festive atmosphere, while our ancient tradition of Beating the Bounds attracts around 15,000 people to Llantrisant every seven years.
The Guildhall is becoming a much sought-after venue for film screenings, guest speaker events, live concerts and other community activities.
The building and adjacent land can also be hired privately, so you can organise an event of your own.
Contact us for further details.
A list of our forthcoming events:
2019 Events
Thursday Nov 28 – Hot Club Gallois – An Evening of Gypsy Jazz
Friday Dec 13 – Sinema Unnos Llantrisant Pop Up Cinema presents Friday the 13th
Saturday Dec 14 – Christmas at the Castle
Saturday Dec 14 – Sinema Unnos Llantrisant Pop Up Cinema presents Rocketman
Sunday Dec 15 – Sinema Unnos Llantrisant Pop Up Cinema presents Calamity Jane
2020 Events
Thursday Feb 13 – Lecture Series: The American GIs in South Wales by Glenn Booker
Thursday March 12 – Lecture Series: An Evening with Trevor Fishlock
Thursday April 9 – Lecture Series: History of a Hilltop Town by Dean Powell