Built in 1346 and rebuilt in 1773, Llantrisant Guildhall was the centre of power in an ancient borough for more than 500 years.
Its elegant Georgian Court Room hosted the Court Leet, and petty criminal court, which ruled the markets and fairs of the hilltop town.
Below was the cornmarket, which included the town stocks alongside four open archways that led onto the large market place.
It is also the home of the cells, known locally as the "black hole" which continues to send a shiver down the spine of many visitors.
There are many fascinating items to view in the Guildhall, whether secured in our showcase cabinets or mounted on the walls. The Court Room is home to a collection of silverware presented by Sir Brandon Rhys Williams of Miskin Manor and Sir Cennydd Traherne, the Lord Lieutenant of Glamorgan.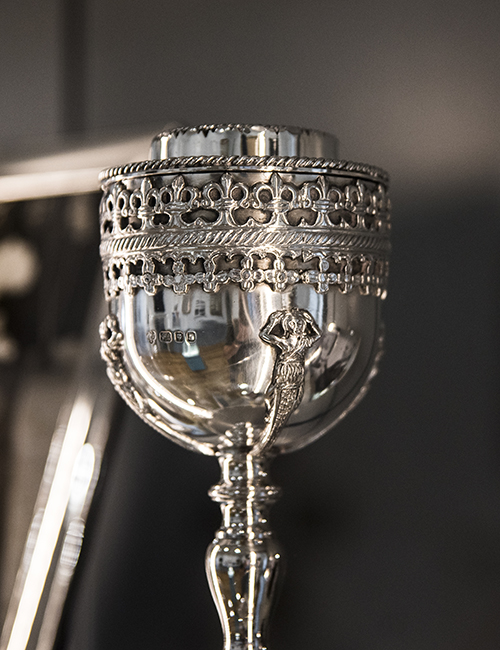 View the 18th-century longcase clock made by Freeman David Thomas in 1780 or the magnificent portrait of the Lord Mayor of London Sir David Evans, which was recovered after being lost in storage for decades.
The most precious of all items is the silver mace, dating from 1633, which was awarded to the Freemen of Llantrisant by the 4th Earl of Pembroke. Miraculously it survived the English Civil War and is older than the one used in the House of Commons. A specially-commissioned 3D print of the item remains on permanent display, while the original is still used at ceremonial events such as the Court Leet and Beating the Bounds.
There are exhibitions on the pioneering Dr. William Price, including many of his personal items and stitching needles for surgery. A beautiful replica of the colourful costume he wore brings the enthralling story of this eccentric Welsh character to life.
While wandering the Archer's Hall you can view a life-like Welsh archer, dressed in uniform and armed with an impressive longbow designed specifically for the Guildhall. This exhibition is dedicated to the Battle of Crecy in 1346, where the town's longbowmen, know as the "black army", fought for the Prince of Wales.
To truly appreciate the heritage of the town and the magnificent collection on display, visit the Guildhall at Llantrisant.
To learn more about its history visit here.